Deconstruction Concept Store
Sophomore Studio
2018
[concept store][interior design][Deconstruction][visual merchandising]
Rhino, Keyshot
---
For an unprompted completely-open project, I decided to design a concept store, with tribute to those such as 10 Corso Como, Dover Street Market... but with a heavy focus on the concept of "Deconstruction".

This fictional store will be exhibting and selling archive "Deconstruction Fashion" pieces, such as archived design works of Martin Margiela, Rei Kawakubo, Yohji Yamamoto...

---
move the images around...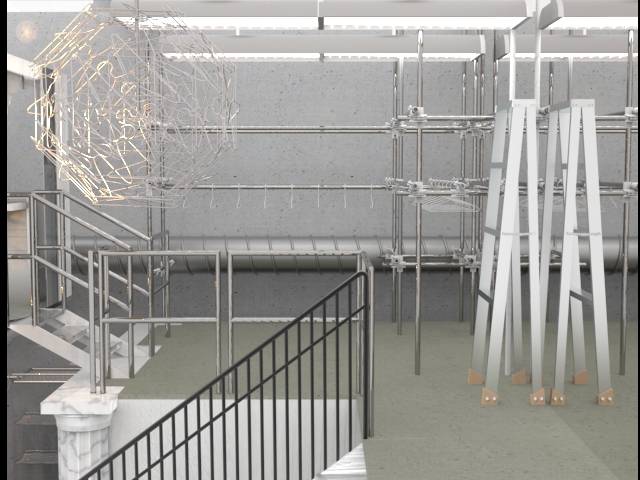 After initially determining that I wanted to design a concept store for deconstruction fashion, I briefly researched the concept of deconstruction as my starting point.
---
Martin Margiela
-Maison Margiela
Martin Margiela is perhaps the most famously known fashion designer for deconstruction in fashion. He designed for his own label Maison Margiela and exited the scene in 2009.

Margiela is a quite discrete figure, and so is his brand (supposed to be). Unlike other famous fashion designers, Margiela maintained a low profile, even today, there is hardly photos of him available on the internet. This anonymous quality was supposed to be an essential part of the brand. Maison Margiela pieces all have four stitches serving as the "logo" on the piece, the connotation is that the stitches can be used to remove the internal label
(it is kind of contradictory because the brand is very widely known, and the four stitches are not anonymous as they were meant to be)

Envisioning a concept store with a deconstruction theme, I had to include Maison Margiela. In Maison Margiela pieces, the concept of deconstruction means quite a lot:
---
The SS 1990 runway

"As a student I always thought that fashion was a bit superficial, all glitz and glamour, but this show changed everything for me. I walked out of it and I thought, That's what I'm going to do. That show is the reason I became a fashion designer."
-Raf Simons
This "gaming-changing" show took place in the
outskirts of Paris
, not a glamorous venue alike where usual fashion shows take place, models walked with local kids...It was a
radical presentation
of the designed pieces rather than a glamorous and standard one.
The pieces shown on the models are equally "shocking", there were an
unlikely mix of different symbols
: Margiela took not only the garments themselves into consideration but
the system that produced them
-he used linings from old dresses, mis-matched materials such as silk and jersey. Garments were not seamless, but there were instead deliberately exposed seams to
address the process that took place to produce the garments
...
Though these descriptions may seem normal today in 2020 (where many fashion brands take on some kind of "rebellious" characteristic into their design), one could only imagine how different it was back then.
---
SS 1998
For the SS 1998 collection, Margiela presented a runway with
flat clothes shown on hangers
.
Clothings become theoretical deconstructions, liberating themselves from functionality.
---
The Reconstructed Pieces
Margiela also designed garments with other garments.
In these pieces, the transformation is not seamlessness. The original function is not hidden, but instead, there is a co-existentence of the original and the new function

-the symbolic inversion presents alternatives to commonly held culture codes and norms, denial of system and order,and play of disruption and fixed categories.


Perhaps this could be considered fashion's version of Objet Trouvé (found object: randomly found object considered atheistically pleasing: wrecked cars, scrap metal etc.) or the Italian school of Arte Povera (poor art: use commonplace materials that evoke pre-industrial age: rocks, paper, rope etc.)


---
Tabi shoes
Tabi is a classic of Maison Margiela. Here there is a Japanese footwear inspiration- emphasizing a relatively hidden body part. This form is unfamiliar to western world, one could even interpret it as a reference to animal world—goat. There is a grotesque quality—what lies at the core of Surrealism.
Distinctions between things are blurred and boundaries are trespassed.


---
Replica
Replica is another famous "line" in Maison Margiela. Shown in the image is a sneaker design reproduced from German trainers. Replica garments are reproductions of found clothings from various periods in history, they serve as objects of reflection. Here the designer is anonymous.
There is also an infusion of working class signs to the surface of clothing

---
The Maison Margiela Glossary
My notes from the Maison Margiela Glossary:

White : a whole spectrum of shades, repudiation of hierarchy, symbolistic of Margiela

Recycling: give old garments/materials/style from other eras a second life

Trompe-l'oeil: forms that tricks the eye

Found items to new creation

"Poor materials" as anti fashion glory
---
Rei Kawakubo
-Commes des Garçons
- Dover Street Market
Rei Kawakubo is a Japanese fashion designer.

After studying fine arts and literature, and working in advertising for a Japanese textile giant for a few years, she decided to design clothes. She started Comme Des Garçons (like boys) in 1973.

Instead of responding to trends, she roots her design in concepts and even anti-fashion. Her works lay in-between art and design. Her unique approach immediately grabbed the attention of the fashion world at her debut Paris fashion show in the 1980s.

She is now known for her brand Comme des Garçons and the concept store Dover Street Market (opened in big cities around the world).

Kawakubo's application of deconstruction could be considered different from that of Margiela's. :

As an example, in her Autumn Winter 1997 collection "Dress Becomes a Body Body Becomes Dress", she
deconstructed the perception of ideal beauty and perfection
.
She is also influenced by the Japanese concept of
Wabi-Sabi
, meaning
unfinished raw aesthetic
.
Despite some of their different approaches, there are also similarities in Rei Kawakubo and Martin Margiela's deconstructions, including:
questioning of the norms
aesthetics of deconstructed and non-finished clothes
interest in the history of clothing

In the 2000s, Kawakubo started to open Dover Street Market in big cities around the world, a store inciting a selection of international designers pieces and presenting many artist installations along with the garments.

I am deeply interested in Kawakubo's approach of deconstructing the boundaries of art and design, whether in her own design works or in her concept store.

While fashion design and visual merchandising are a lot of the times commercial, they could also be designed to deconstruct themselves and tell more stories.
To think of it, fashion stores and runways are similar constructs in a sense that they are both presentations of the finished designs.


To catch the essence of the difference between presentations of deconstruction fashion and "common" high fashion in the midth-to-late-20th century. I analyzed differences of their runway settings to see how deconstruction runways presentations convey the concept.
---
"common" high fashion
Presentations focused on showing the
beauty
of the garments
. Usually set in a
glamorous venue
.
As a showcase for the
beautiful finished design
.
---
deconstruction fashion
Radical presentations
. Set in
unexpected places
(e.g. Margiela's shows in an abandoned warehouse, his own studio, a charity store...) A
rebellious
quality and even a
carefree
attitude.
Overthrow of the "bourgeois" quality
, instead shows
infusion of working class elements
and
celebration of everyday life
. Showcasing the
process of the finished design
.
Though fashion stores are usually glamorous "stages" to showcase the beauty of the finished designs, the studio spaces and factories where the designs are produced are usually less polished comparing to the store.


However, there is also beauty in this less polished quality, and a living-breathing sense of everyday life. Perhaps this could be related to Wabi-Sabi. Or perhaps it is the beauty of the process, an emphasize on the time-being rather than the final finished piece.

I was observing our studio at school, though not a glamorous stage at all, I found poeticness and a very special "personality" in the industrial and rough quality of its look and structure.